August 28 Photos Mercer Raceway Park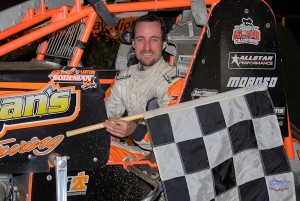 Our Victory Lane photos from August 28 are now posted to our gallery. Due to a recurrence of some health issues, Paul was not able to be at the Park on Saturday, so we have no action photos this week. Our good friend and colleague Scott Whipple will have action photos posted on his web site.
Mercer Raceway Park wrapped up the month of August on Saturday night with the Auto Racers for Kids Charities event. It was night four of four in the 2010 Bonnell's Collision Center Sprint Shootout Series that also featured events at Sportsman's Speedway, Eriez Speedway, and Raceway 7. Celebrating in the Hoosier Tire Mid-Atlantic Victory Lane were Jack Sodeman, Jr.-Luxaire Heating & Cooling (410) Sprint Cars, Russ Byler & Jeff Walters-Big Daddy's Speed Center Stock Cars, and Tim Callahan-M&D Paving Mini Stocks.