July 2 Photos – Mercer Raceway Park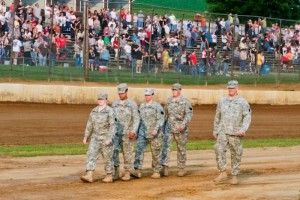 Photos from July 2 at Mercer Raceway Park have been added to our gallery.
Special thanks to Toni Carbone, who is helping out Paul while he has to deal with health issues.
Mercer Raceway Park celebrated American Patriot Night, but no one celebrated with more gusto than Dan McEwen, a first-time winner in the Bog Dog R/C Center Mini Stocks, and Rod George, who was victorious at Mercer for the first time in more than a year. The Tugboat, Lonnie Riggs, docked in victory circle in the Approved Toilet Rentals 358 Modifieds, Gary Edwards was quick out of the box in the ti22 Performance Outlaw Sprint Warriors, Terry Wheeler broke Rusty Moore's winning streak in the Precise Racing Products Stock Cars, and Shane Pfeuffer dashed home first in the Big Daddy's Speed Center Modified Lites. Plus, fans young and old were awed by a Fireworks Spectacular provided by Walt's of Mercer Plaza and Pizza Joe's.