September 25 Photos Little Guy Nationals Mercer Raceway Park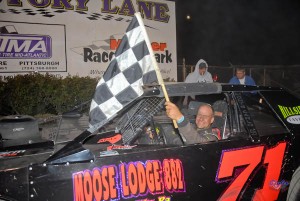 All of the photos from the 2nd night of the Little Guy Nationals at Mercer Raceway Park have now been added to the September 25 gallery.
Night 2 of the 11th Annual "Little Guy Nationals" took place on Saturday September 25 at Mercer Raceway Park. One day after a high temperature of 90 degrees, a cold front swept through and dropped the temperature nearly 30 degrees on Saturday, but dry conditions prevailed.

One hundred sixty-nine cars filled the pit area with the following drivers victorious: Jimmy Holden-Approved Toilet Rentals (358) Modifieds, Greg Fenno-Big Daddy's Speed Center Stock Car Feature 1, Bobby Whitling-Big Daddy's Speed Center Stock Car Feature 2, Bob Schwartzmiller-Stock Car Non-Qualifiers Consolation, Chris Schneider-4 Your Car Connection FASTRAK Late Models, Matt Hay-STAR's Mod Lite Series, Blane Krott-Strictly Stocks, and Mike Scharba-M&D Paving Mini Stocks. A total of 229 different cars competed in the seven divisions over the two days of competition.